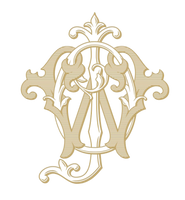 A custom design of your very own with Shuler Studio!
Shuler Studio, much like us, is a mother-daughter duo with a passion for all things custom! We take immense pride in presenting our clients with a wide range of Shuler's fabulous collections. Among our offerings, you'll find a stunning array of two-letter and single-letter fonts ready for your selection. And for those moments when you can't find the ideal design or you're in search of a unique three-letter design, Shuler provides a wealth of fantastic custom packages to cater to your every need!
Shuler designed the perfect monogram for Olivia's wedding, as showcased here! We incorporated this design into various aspects, from the invitations and dance floor to a jean jacket, stockings, cocktail napkins, dinner napkins, handkerchiefs, bouquet ribbons, and much more! To this day, we still utilize it, most recently to personalize euro shams, cocktail napkins, and hand towels. It's a timeless gift that continues to bring joy!
Follow the link below to start your custom Shuler design!
Shuler Sudio